Get in Touch
We look forward to your visit at Rye Pediatric Dentistry
Welcome to Rye Pediatric Dentistry. We are a pediatric dental practice whose doctors are specifically certified in treating children. We strive to provide quality dental care to infants, children, adolescents, and those with special needs. Our mission is to deliver care in a compassionate and respectful manner so that your child has every opportunity grow and remain healthy. As such, a visit to our office should no longer be regarded as just a dental visit, but a health visit.
With your involvement, we will form a team who contribute to the well being of your child. Our office emphasizes the importance of early prevention which should begin with the first dental visit by the age of 1. Our goal is to make every child's experience comfortable and positive in our child friendly environment. No referrals are needed for appointments. Please feel free to call our office so that we may begin discussing your child's care as we work together in guiding your child toward a healthy and beautiful smile.
Having a playful, child-friendly atmosphere is essential in making children feel welcomed. The office has been built with a child's overall health in mind. The office is also proud to implement renewable building materials, no VOC paints, lower water usage, lower paper consumption – all lending to a better environment for patients and staff.
---
Rye Pediatric Dentistry
Entrance at front of building
130 Theodore Fremd Ave. Suite #M2, Rye, NY 10580
914-967-0000 | Fax: 914-967-0149 | care@ryekids.com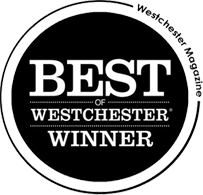 Voted Best Dentist by
Westchester Magazine